Busbar Joint Shrouds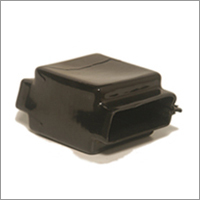 Busbar Joint Shrouds
Product Description
Busbar Joint Shrouds
Busbar Joint Shrouds is a flexible and light weight insulating material which is used over bus bars in the electrical systems of commercial and industrial buildings. It offers excellent thermal and electrical insulation for better protection. It is manufactured by using best in class rubber based materials which results in higher tensile strength of 11 Newton per square millimeters. Busbar Joint Shrouds can be easily installed or removed and does not require special equipment for installation.
Features of Busbar Insulating Shroud:

Suitable for insulating bus bar joint works usage (elbows, tee, etc.)
Special buttons makes it fast to install, replace or remove during maintenance
Provides significant reduction in air clearances
Excellent electrical & thermal properties
Latest designs moulds can be developed in a week.
Highly resistant to ozone & UV rays. Good for outdoor & indoor applications.
Product Details
Properties

Value

Standard

Physical

Tensile Strength

11 N/mm (MPA)(min.)

ASTM D 412-06a

Ultimate Elongation

250% (Min.)

ASTM D 412-06a

Longitudinal Change

0.5 % (Max.)

ASTM D2671

Hardness

60 10 Shore D

ASTM D2240

Water Absorption

0.5 % (max.)

ASTM D570

Thermal

Accelerated Ageing for 110C for 300 Hrs

Tensile Strength

9 N/mm2 (Mpa) (min.)

ASTM D 412-06a

Ultimate Elongation

150 % (Min.)

ASTM D 412-06a

Heat Shock (120oC for 4 Hrs.)

No Cracking or flowing

ESI 09-11

Continuous Temperature limit

-40C to + 110C

IEC 216

Electrical

Dielectric Strength

6 to 12 KV/mm.

ASTM D149

Volume Resistivity

1012 Ohm.cm

ASTM D257

Flammability

Flammability

Pass

UL-94 (V-0)