Heat Shrink Thin Wall Sleeves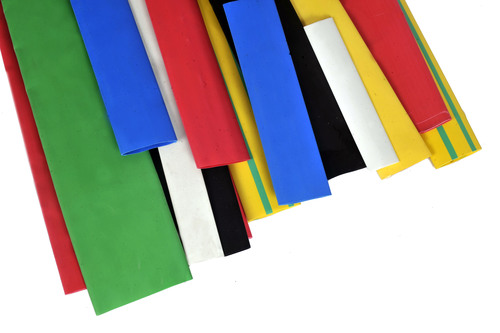 Heat Shrink Thin Wall Sleeves
Product Description
Amar Industries is a renowned manufacturer and supplier of premium-quality Heat Shrink Thin Wall Sleeves made up of best-in-class lightweight and highly stretchable thermoplastic rubber-based materials that give higher security against high temperature, water, moisture, and chemical attacks. It is available in various colors and lengths as per customer demands. The offered protective sleeve can be used in construction and industrial applications. Get this high-quality stretchable Heat Shrink Thin Wall Sleeves from us with a supply ability of 1000 pieces per day.
Highly flexible, irradiation cross linked tubing used for insulating, jacketing and bundling of wire harnesses and components. Made from flame retardant polyolefin, it offers a excellent balance of electrical, mechanical, thermal, chemical and physical properties. Operates up to 135C.
Features:
1. Halogen free, Flame retardant and self-extinguishing
2. For Electrical Insulation up to 600 volts
3. Resistance to chemical, copper corrosion and fungus
4. Standard Colors: Black, White, Yellow, Red, Blue, Green, Yellow/Green and Clear.
Product Details
Properties

Value

Standard

Physical

Tensile Strength

8 N/mm (MPA)(Min.)

ASTM D 412-06a

Ultimate Elongation

150% (Min.)

ASTM D 412-06a

Water Absorption

0.5 % (max.)

ASTM D570

Thermal

Heat Shock (130oC for 30 Mins.)

No Cracking or flowing

ESI 09-11

Shrink Temperature

90C

IEC 216

Continuous Temperature limit

-40C to + 110C

IEC 216

Electrical

Dielectric Strength

600V - 12kV

ASTM D149

Volume Resistivity

1X1015 Ohm.cm

ASTM D257

Flammability

Flammability

Pass

UL-94 (V-0)