PVC Busbar Shrouds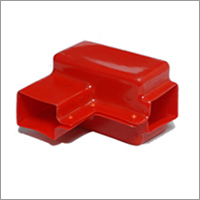 PVC Busbar Shrouds
Product Description
PVC Busbar Shrouds provided by our company, is tested under various parameters to ensure its high quality and effectiveness. These shrouds can be easily customized to suit both low & high voltage applications. These shrouds reduce maintenance cost with less distribution interruption. They are very effective and safe to use. PVC Busbar Shrouds ensures electrical safety and prevents injuries during maintenance. They are available in standard models and customized designs along with other specifications. They are very economical in nature and highly appreciated in the market.

Features of Busbar Insulating Shroud:

Suitable for insulating bus bar joint works usage (elbows, tee, etc.)
Special buttons makes it fast to install, replace or remove during maintenance
Provides significant reduction in air clearances
Excellent electrical & thermal properties
Latest designs moulds can be developed in a week.
Highly resistant to ozone & UV rays. Good for outdoor & indoor applications.